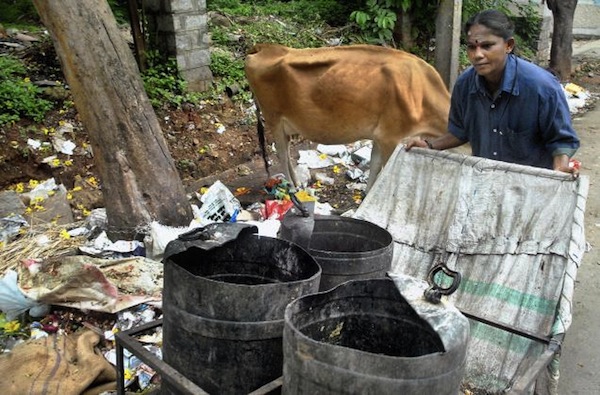 Photo: The Hindu / K. Gopinathan
I learned a new word today — POURAKARMIKA.
In Bangalore, this is the name given to the cleaners who pick up the garbage that everyone dumps on street corners and improvised rubbish tips.  (We don't have household dustbins here.)  When I first arrived here it was a surprise to see that in a cosmopolitan and supposedly hi-tech city of 9 Million people, the streets are cleaned by women in saris, using 2 twig-brooms, which in the Indian style have no handle or broomstick, so they are stooped over all the time.
They're also working during the day while traffic is whizzing past them, and they invariably end up kicking up a lot of dust — so much so that when I walk by them sweeping, I usually put my ever-ready handkerchief over my nose and mouth to avoid breathing in the dust.  You hardly ever see the women with anything covering their faces though.
They collect the rubbish into push-carts like the one in the photo, which here are always literally falling apart. (By contrast I noticed when I was in Ahmedabad last year that the cleaners there had pretty decent carts.)  They sweep the rubbish into neat piles in the gutter, and then using 2 pieces of cardboard or thin wood — one in each hand — they pick it up and put it on the cart.   (Or if it's a pile of leaves, they'll often just burn it in the gutter.)  Three-wheeler "garbage rickshaws" then come round to collect this. You also see huge trucks that are absolutely packed with rubbish, along with a gang of men in amongst it all, loading up the truck while big white sacks hang off the back, dripping various liquids along the road.
I've also seen these people cleaning out the huge storm drains by the side of the road as well, and these effectively double as sewers in some places…
All in all, it's all very chaotic and messy, and it looks like thoroughly unpleasant work.
Anyway I came across this new word in a recent article in the Bangalore section of The Hindu newspaper, "Anger as pourakarmika dies of snakebite":
A section of pourakarmikas, livid over the death of a colleague of snakebite, protested with his body in front of the Herohalli sub-division office of the Bruhat Bangalore Mahanagara Palike (BBMP) on Wednesday.

Narasimhaiah (55) was bitten by a snake on Tuesday at Anjana Nagar on Magadi Road. Though he was rushed to a nearby hospital, he died because of alleged lack of effective treatment.

Even more than 12 hours later, Narasimhaiah's family had received no help from either the garbage contractor who had hired him or the principal employer, the BBMP.

The incensed pourakarmikas protested with the body, raising slogans and demanding justice for the family as well as thousands of pourakarmikas across the city.
Apparently this man was bitten by a venomous snake while clearing out a drain.
BBMP is the municipal corporation (city council) here in Bangalore, and I now understand that they outsource the street cleaning to contractors who employ the Pourakarmikas. This has been in the news recently because they were striking over pay — since April 2012 they are supposed to receive a minimum wage of Rs 6,600 a month (£77), but according to this article, not only have the contractors been in the habit of taking a cut of more than 50% of their wages, but free accommodation that was promised hasn't been forthcoming either.
Snakebites are relatively straightforward to treat these days, as long as you're quick about it, but the suggestion that this man died through not being treated properly at the hospital supports another quote from the same article: "We have our health cards, but are not granted entry into most hospitals due to our caste status."
Why am I writing about this?  Well, apart from commenting on the obvious injustice, I see these men and women every day, and I always wondered if they were employed by residents of the street, by the council, or if they were somehow "freelance".  When my maid Kannagi first started cooking and cleaning for me around a year ago, she asked me for twenty rupees "for the garbage lady" and I wondered if maybe residents of the street were expected to pay them… but she never asked me for it again.
I would often see this "garbage lady" in the street when I was going to work in the morning, and she would sometimes ask me for money (or so I imagined, I couldn't understand her), or sometimes she would yell at me from across the street, which I had even less chance of understanding.
After a while we somehow seemed to settle into an alternating pattern of either — me trying to avoid her because she was really getting in my face, or — her catching me when I actually had some change and me giving her something, which she accepted with two hands, a big smile, lots of bowing and scraping, and "thank you sah".  Both of these situations made me feel pretty uncomfortable, and I was never really sure if she was begging, asking for a tip, or demanding what she was rightfully owed because she was cleaning outside my apartment.
In January, when I moved to another apartment up the road I tried to explain to her in Hindi that I was no longer living in the same place, but wasn't really sure if that would make any difference to my "obligations" or not.
So — although the story about the man dying from the snakebite is terrible, I was glad to come across these articles because now I understand the situation these people are in.  And from now on I'll always make sure I have some spare rupees in my pocket so I can show my gratitude to this lady who is "our Pourakarmika", whenever she approaches me in the street.