The world's biggest democracy just had the world's biggest power-cut.
According to the Times of India, 684 million people across 21 States and Union Territories in the North and East of India were without electricity yesterday, when 3 power grids failed. That's more than half the population here, and pretty close to a tenth of the people on the planet.  It was the biggest electrical power failure in history.
300 coal miners were trapped underground, the Delhi metro was shut down, government workers were sent home early, and the finger-pointing started immediately. This was the second day in a row that the grids had failed. Within hours the Power Minister Sushil Kumar Shinde was "promoted" to another post, and his portfolio given to someone else.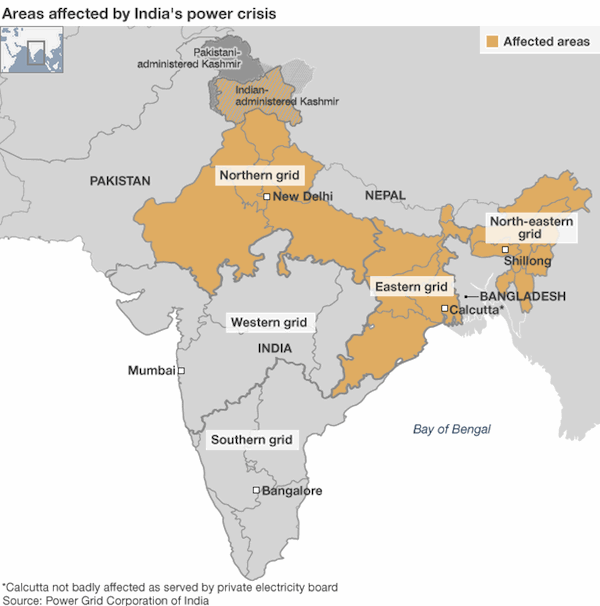 (map: BBC News)
Sadly this is yet another sign that the creaking infrastructure here just can't cope with the growth of India's megacities. It's also a damning indictment of state and central government for not putting proper plans and resources into place.
Things seemed relatively normal here in Bangalore yesterday… the street lights were all off as I walked home from work, but that's pretty common.  Occasionally in college, when our generator has run out of fuel during an outage, I've had to move my class to a room with windows and natural daylight, and sit everyone around my laptop instead of the projector.  But these localised blips due to "load shedding" are part of everyday life here.  On the other hand, yesterdays failures were due to total collapse of the  Northern, Eastern and North-Eastern grids.
From what I've read, the Northern grids depend on hydro-electric power quite extensively, and since this year's South-West Monsoon has effectively failed, the hydro just isn't there.
(And right on cue… just as I'm editing this over breakfast, the power goes off!)
Meanwhile TOI also reports today that Gujarat — a state often held up as an example in terms of good management — has surplus electricity, "with near 24 hour electricity supply not just in cities like Ahmedabad and Vadodara but in all the 18,000 villages". Maybe the other States can learn some lessons from Gujarat, and quickly.