Indian food is fantastic!  
Coming from the UK I already knew the cuisine pretty well, especially after living in Leicester which has a very large South Asian population.  But since living here I've discovered much more about it and have enjoyed it even more.  For me, the food is one of the best things about living here.
South India is paradise for vegetarians too.  I do eat fish occasionally, but I mostly eat "veg" here and it's a real delight.
This is the breakfast menu from the Hotel Surguru in Pondicherry where I stayed earlier this year.  What a choice!
Right then, on with the count-down…
#30 & #29: Idly and Dosa
Dosas are a kind of thin, crispy pancake made from rice flour — my favourite is Masala Dosa which is filled with spicy mashed potato.  Idly are small cakes made of soft rice.  Here in Karnataka both are served with spicy sambar and coconut chutney.
Dosas are great for breakfast, especially with strong black tea.  Bangalore airport has a "live" dosa counter where the chef cooks yours in front of you — it's very popular and opens at 5.30am!
#28: Chaat
Not a dish as such, but a more general category of snacks.  Chaat can take many forms but generally seems to be fried noodles/gram flour, puffed rice or small puri (puffed up fried dough), along with various sauces, chutneys and yoghurt (dahi).  One of the great things about Chaat is that every place seems to have its own specialities, so there are different options and flavours everywhere you eat it.
The picture shows a typical lunch I had recently in the food court in Forum Mall, next to where I work.  Aloo Puri (left), Dahi Samosa (right) and a fresh watermelon juice.
#27: Vada Pav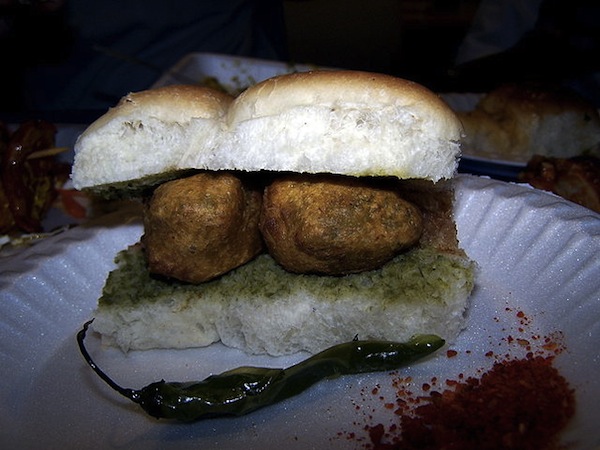 (pic by Warren Noronha @ Flickr)
Kind of an Indian veggie burger, Vada Pav consists of a potato pattie (batata vada) in a bun (pav).  All the ones I've had have been very spicy and usually include a whole green chilli covered in salt, but I guess they vary a lot.  A great fast-food hit. One of the marketing guys at work bought these for all the staff one time… not really sure why, but it was great.  (Thanks Venky!)
#26: Bananas
Right, let's get a bit more healthy.  I thought I knew what a banana was before I moved to India, but here they come in many shapes, sizes and colours, and some of the supermarkets seem to have 6 or 7 varieties.
Banana plants (they're not actually trees) grow wild all over the place in Southern India, and pretty much every little roadside kiosk that sells cigarettes, samosas and chai also has a hand of bananas hanging up.  I've tried the red ones and the really small ones, but I actually prefer the "Robusta" variety, which seems pretty similar to what I was used to back home, with the important difference that they have ripened naturally rather than sitting in a container of gases during shipping.  The downside of this is that they go over-ripe very quickly, so you need to eat them within a couple of days.  They definitely taste way better than bananas that have done ridiculous food-miles from Honduras or Belize to Europe though.
The banana flower — the huge red thing hanging down in the photo — is also edible, and also sold in grocery stores and supermarkets.  Haven't tried one of these yet, and wouldn't really have a clue what to do with it to be honest, but it's an interesting thing to look at.  They're usually about 8-10 inches long.
#25: Thali
Again, not a dish as such, but a collection of dishes that's different everywhere you go. In fact, when I get one of these for lunch (in the food court at Forum Mall again), it's actually different every day, even though I often go to the same place.  Also called "meals" or something similar, Thali actually means plate.  You usually get a metal or plastic tray with lots of small bowls with different dishes in, plus rice, roti (chappatis), and some kind of desert.
The picture shows the one I had for lunch today, and it cost Rs 115 — around £1.40.  As usual, there are a couple of dishes made from vegetables that I can't identify, but I kind of like that.
#24: Bhindi
Bhindi, Okras, or "Lady's Fingers" are a vegetable found all over the world. They're supposed to be good for you — a diuretic and a good source of oxalates.  I've also been told by Indian friends that the sticky seeds insides are good for cleaning the colon.
The meal in the photo — bhindi bhaji, potato and mushroom curry, curd rice and roti — was made by my cleaner Kannagi.  She comes to clean my flat once a week and she was very keen to cook for me as well, so I eventually gave in and agreed.  I'm so glad that I did… apart from the fact that she's a great cook, it's really nice to come home from work on a Tuesday night wondering what she has left for me to eat.
#23: Mango!
Fresh mango is fantastic, although I can imagine how you could overdose on it rather easily because it's everywhere here once it's in season.  Mango season starts around April and goes on until September I think.   This picture was taken in the Star Bazaar (like Tesco's) underneath my college — 10 varieties and that's just in a supermarket. In the "Mango Mela" held in Bangalore there are literally hundreds of varieties.
During this last season I really enjoyed having fresh mango on summer mornings along with my breakfast muesli.
#22: Coconut
(pic by aacool @ flickr)
In this part of India, you can't move for coconuts — you're literally tripping over them in the street.  Every day while riding to work in an auto-rickshaw, I see coconut sellers like this guy, pushing their very sturdy bicycles down the street laden with heavy green coconuts.  They sell these as drinks, for around 10-15 rupees each, hacking the end off with a very sharp sickle and giving you a straw to drink through.  And if you're keen they cut it open when you've finished so you can eat the 'flesh' inside.
In south India, coconut and coconut oil are used a lot in cooking too…. coconut chutney in particular is very common (and delicious — see Dosa above).
#21: Banana Leaf Business
Again, not a dish as such, but a style of cuisine and presentation.  In South India and especially in the state of Kerala, it's a tradition to serve food on a banana leaf rather than a plate. This picture is from a meal that we had at work, celebrating the Keralan tradition of Onam.  It's taken me a while to perfect the technique, but I can now eat rice (and everything else) with only my fingers… the bigger challenge is doing it while you're sitting cross-legged on the floor, with the banana leaf in front of you.
The lovely part of the Onam tradition is that — in theory —  everyone sits down and eats exactly the same vegetarian meal, on the same day, in the whole of Kerala.  There's something about sharing a meal that really brings people together, and when we did this at work with the staff and students it created a great atmosphere.
* * *
Not sure what else I can add at this point, except to re-iterate that Indian food really is a joy, every single day.  At the college where I work we are lucky that there are lots of options for eating lunch nearby, and some of them are really great.  My favourites are Gramin and Udupi Krishna Bhavan — both vegetarian, and both with the most incredible food… hard to find the words for it really, but both have a rich vocabulary of spicy flavours, and without necessarily being hot.  My mouth is watering as I type this… I think I need to stop now and go to cook some dinner.