So here we are then.  I'm now a Dilliwala—a resident of Delhi.
The past 3 weeks have been a bit hectic and complicated, given that I started a new job while living in a hotel, and meanwhile had to find a new apartment within 14 days and register the address at the Foreigners Registration Office.  But I managed it, and this time it's an order of magnitude easier than when I first arrived in India 2 years ago, when I didn't really have a clue what was going on, or any appreciation whatsoever of the enormity of Indian Bureaucracy.
I moved into my new place a week ago, and since then have been living from a large "to-do" list, buying bedding and kitchenware and food and whatever else from the nearby local markets.
So far, Delhi is looking pretty good, and very different from Bangalore.  The main surprise being how cold it was… I certainly didn't expect to be wearing a fleece, hat and scarf (even in the office), and I've been using a range of fan-heaters every day.  I've got through 3 in the office already because they keep blowing up.  At home I have a nice oscillating one that cost an arm and a leg, but it's doing the business.  And I've got a quilt on the bed, which probably will be gone soon and put into storage for 10 months.
This weekend it seemed like the winter ended suddenly, with proper blue skies breaking through and the daytime temperature getting into the 20s.  I think we can probably expect a few weeks of "Spring" and then the Summer will kick in, but I'm not certain at this point.
Anyway, I have a nice flat in Defence Colony, in South Delhi.  Which seems like a good place to be, except I have to commute for over an hour to get to work—currently on foot, then metro (changing twice), and then 10 minutes by cycle-rickshaw to finally get to the office.
The metro is really impressive: very efficient, clean and modern.  Just like most other metro systems I've been on, except with very high security—every station has 2 queues for airport-style metal detectors as you go in, one for women and one for men, and a conveyor-belt X-ray machine for the bags.  As you go through the metal detectors you get frisked and swept with a hand-held metal detector, and then you go through the ticket barriers.  In some stations there's a "nest" built with sand-bags, housing a soldier/policeman with a rifle or machine gun.  Most of this makes everyone feel safe I guess.
Slightly less safe is getting on and off the actual train, especially at very busy times like Sunday afternoon.  There's always a lot of pushing and shoving, albeit with smiles.  It's also very male-dominated, around 95-100%, which felt odd at first.  The first coach in the train is for women only.
My new apartment has a balcony, which I'm desperate to fill with plants as quickly as possible. I was trying to explain this to a friend today, and I think it's something to do with control, but also exercising mastery—I know what I'm doing with plants.  Whereas when it comes to something like interior decor  I'm much less proficient.
I'm staying in a relatively quiet corner of Defence Colony, overlooking a nice little park.  Car horns are fairly minimal, although there are quite a few very vocal dogs on this block.  The cries of the local fruit and veg walas are pretty loud too, when they're pushing round their hand-carts.  Why anyone would want to buy cauliflower at 7.30am on a Sunday is beyond me.  I guess I'll get used to them, given time.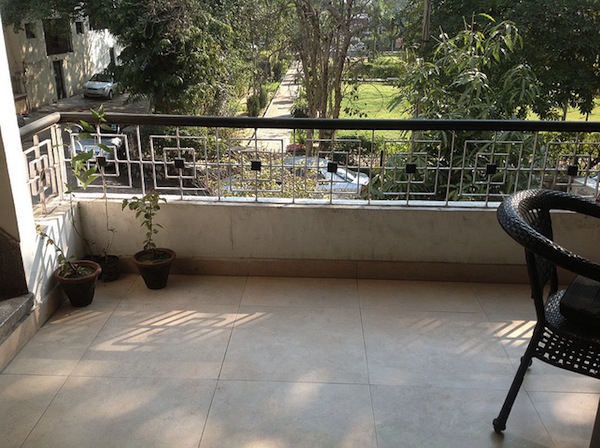 In the quest for plants I went to Sunder Nursery yesterday, a place that was recommended to me on a forum I use a lot, and only a 10-minute auto ride from my flat.  The cash office was closed for lunch, but as luck would have it, it's directly across the road from the entrance to a significant monument—the 16th century tomb of Humayun, the second Mughal emperor.  It looks like an early prototype for the Taj Mahal, set in formal gardens, and is very peaceful.  Not a bad place to kill an hour while the garden centre opens.  It seems there are lots of these Mughal-era tombs in this part of Delhi, all really close by.
To find such amazing bits of history right on my doorstep is very welcome, and one of the benefits of leaving Bangalore behind.
As with many monuments there's a higher entrance rate for "foreigners", so I waved my PAN card and asked for a "domestic" ticket in Hindi—Ek swadeshi ticket dijye—and got in for 10 rupees rather than 250.  I've already begun to realise that speaking Hindi here is going to be very important… even at work, where everyone seems to drop in and out of it during meetings without giving it a second thought.  A good incentive to step up my efforts though, and from tomorrow I'll be having classes twice a week.  (If my brain can take it.)
* * *
When I first moved to India, 2 years ago, I told myself it would be an adventure… only later realising what this would actually entail in terms of what you put in, and what you get out.  I've also described Bangalore to many friends as "India for Beginners".  Compared to most of this crazy, complicated, enriching and inspiring country, Bangalore is pretty easy to get on with.
In contrast, I've been thinking of Delhi as more of a challenge. It will be much more extreme in many ways. It is much more traditional than somewhere like Bangalore, and has a reputation as being very difficult for women—something which came to a head in December with the tragic and terrible gang-rape and murder which was noticed around the world, and which was the constant topic of conversation when I was talking to folk back home about where I was moving to in January.
The weather is also going to be a serious challenge—in the heatwave of June 2012 it was 45 degrees here for a couple of weeks.  There are also dust-storms that blow in from Rajasthan, and I've already experienced the cold of winter.  Although the cold is nothing by European standards, nobody has any real heating, windows don't fit or close properly, and most houses have stone or tiled floors.  Cold weather is easy when you have double glazing and central heating.
On the other hand, there is still a vast amount of India for me to explore, and I'm really looking forward to that.  Being 1000 miles closer to the Himalayas is particularly exciting.  There are also several Tiger reserves up here in the North, and the Taj Mahal is even "doable" in a day from here.
So… onwards and upwards.  It's the lunar New Year today, and the start of the Chinese year of the Snake, which is my own sign.  I'm not really sure what this signifies (and I had nightmares about snakes when I first moved to India), but it's as good a time as any to be marking a new start.  And to find out what it means to be a Dilliwala.